What is the difference and which is right for you: Direct To Card or Retransfer Printing?
The choice between a direct-to-card printer and a reverse transfer card printers is one that can be made more easily with the right information.
Direct To Card:  During this printing process, the printhead comes into direct contact with the card itself as the card moves through the printer card path. A direct-to-card printer uses a dye-sublimation process to apply ink directly to the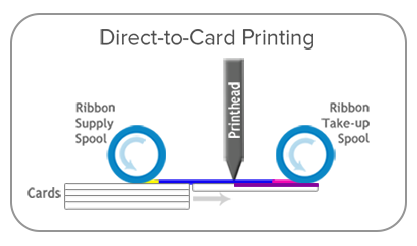 surface of the card. These types of printers require ribbon ("ink") and cards to print.
Direct-to-card printing is best for:
Basic credentials – Printing on cards with majority which backgrounds and/or basic graphics/logos.
Photo or visual IDs – The DTC process can support photo IDs but with the chip inside smart cards, it is not recommended for technology cards as it may leave a "blemish" on the chip area of the card.
Budget-friendly & Fast – DTC printers are generally less expensive and print more quickly.
Options – DTC printers can also support mag encoding, SMART cards and, for some, lamination.
Reverse transfer: For the retransfer process, the image is printed in reverse onto a film and that film is then applied thermally to the card.  For these printers, the printhead never contacts the cards.  While the DTC process requires a card + ribbon, the retransfer process requires an extra consumable, the film.  It is also recommended, because of the higher heat, to use a composite card to minimize warping.
Retransfer printing is best for:
Higher quality image  – Retransfer printers are able to print small text and detailed images at up to 600 dpi.
Over-the-edge printing – Retransfer printers print over the edge of the card so there is not white border.
Printing on technology cards – Retransfer works best for chip cards as the chip is not in direct contact with the printhead, therefore no blemish is left on the card.
Higher budgets – Retransfer printers are a more expensive so ideal for organizations with larger budgets.
Options – Reverse transfer printers can also support mag encoding, SMART cards and lamination.
Ultimately, it is a decision based on budget, card type and graphic requirements.  An ID card serves many roles for your organization including security, logical access, physical access and organization.  With a retransfer printer, it can also be a marketing tool with vibrant colors and graphics.  Let us help you assess what printer best serves you.  Call us at 317-488-1030 or info@asapident.com.